Farm Friends Feature: Pickles
Posted on
October 25, 2022
If you've ever visited Alligator Alley, you've more than likely heard about Pickles. He's one of the most popular alligators around the swamp, because he's cute, friendly and loves to play dress up. Pickles is 10 years old, 7ft long and weighs 80 pounds, but he's been a part of the farm family ever since he was a hatchling. If you've been around long enough, you may recall holding Pickles when he was only a couple feet long; my, how time moves fast.
We had the opportunity to sit down with our scaly friend and discuss the ins and outs of Alligator Alley – after all, he would know. We even got to snap a few photos of his different costumes. Let's see what he had to say!
Q: Howdy, Pickles! Thanks for taking the time to talk with us today. How have things been going at the swamp?
A: Thanks for having me. It's been an adventure around here. From hurricane season to harvesting season and kid's back in school, it's been a real wild time. I'm just enjoying these last few weeks of sunshine before the cold weather hits.
Q: How does a handsome guy like yourself get along with the other big personalities here at the swamp?
A: Well, you know, not everyone can be as good looking as me – I mean, have you seen my green nail polish? But, we get along as best we can. We stay out of each other's ways and try not to fight over the same mate. 
Q: So, I have to ask: what is with the green nail polish?
A: Growing up around all these alligators, I had to find a way to stand out from the crowd. Also, green tends to complement my skin tone.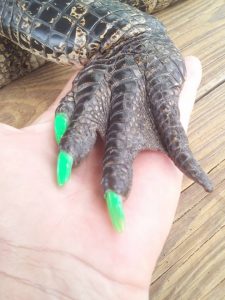 Q: What's your favorite outfit you've strutted around over the past years?
A: Great question! I'd have to say my Easter Bunny costume or my cowboy hat.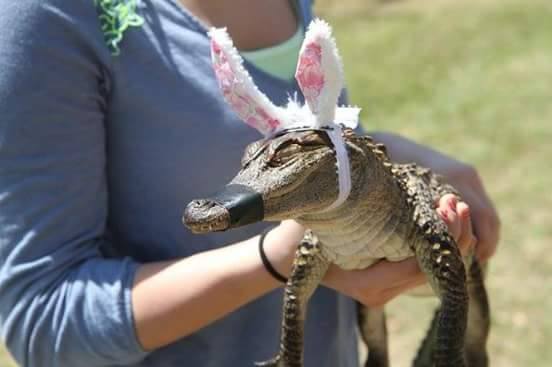 Q: Where does the name "Pickles" come from?
A: I LOVE to eat Pickles! When I was just a baby, I stole a cheeseburger and ate the pickles off of it. Ever since, I can't get enough! Pickles and chow together make for the most delicious combo.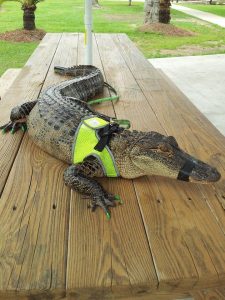 Q: Lastly, what's your favorite part of Alligator Alley?
A: I like to swim around the swamp and make friends. I've never met a stranger! 
Q: Well, Pickles I want to thank you for taking the time out of your busy schedule to talk with us today! Happy swimming!
A: The pleasure has been all mine. See you around the swamp!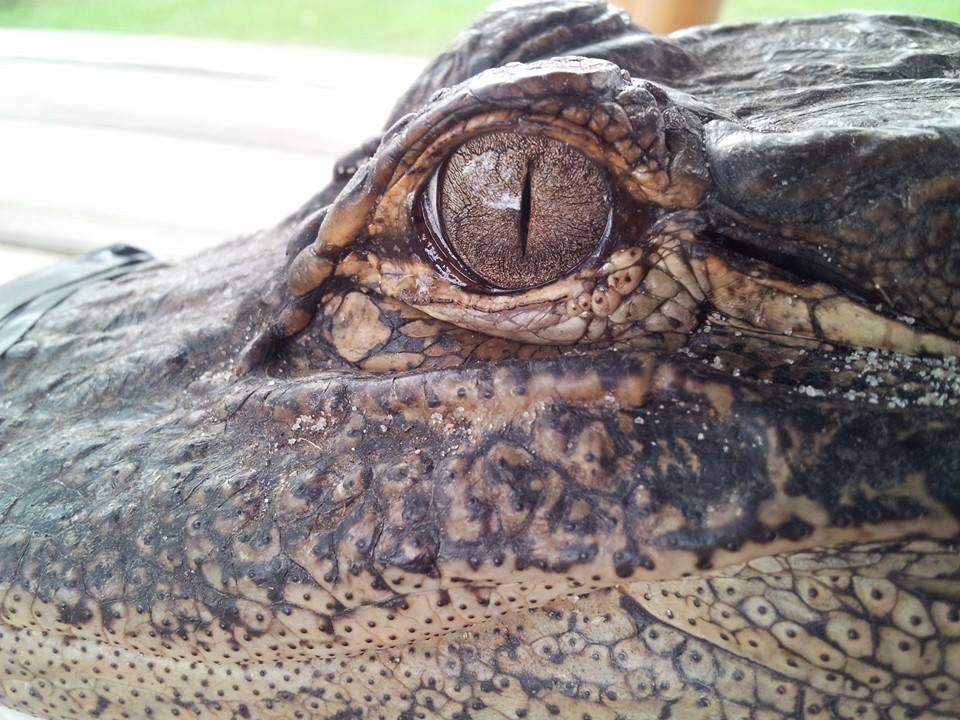 Pickles had to leave our interview for an important photo opportunity in his Halloween costume, but he will answer any fan mail you might have. Just send him or any of the other alligators your questions at info@gatoralleyfarm.com and we'll add you to our newsletter to receive updates on what's happening around the farm! By the way, Pickles has his own Facebook page– check him out!
We are currently open every day except Wednesdays. Be sure to stop by and spot Pickles munching on his favorite snack!