Getting to know GODFATHER
With a name like "Alligator Alley," it's no surprise our alligators get plenty of attention from visitors who come to see these reptiles roaming through the swamp. Yes, we are home to over 600 alligators, but did you know that we also have quite a few other friendly creatures here on the farm? One of our most popular is our largest Sulcata Tortoise, "Godfather."
In January 2020, he escaped and spent nearly a week wandering around the town of Summerdale. We will more than likely never find out what mischief he got into on his excursion. One thing is for sure, he was happy when he returned home!
Godfather earned a spot in the hearts of the Alligator Alley family the moment he arrived on the farm in 2016, after coming to us from a Baton Rouge reptile show. He loves when our guests pay him a visit in the reptile area and comes up to the fence to greet them. For such a large tortoise, he is very active and always on the move. Of course, food—especially strawberries and pumpkins—can be a very motivating factor. Godfather loves to eat and be fed. He will even eat right out of your hand!
Godfather is a Sulcata Tortoise (also known as the African Spurred Tortoise), which is native to the Sahara Desert and Sahel Grasslands. The Sulcata Tortoise is not only the third-largest species of tortoise in the world, but is also the largest mainland tortoise. They are herbivores with a diet that consists of mostly grasses and plants. These tortoises by nature are very friendly and in recent years have become popular pets.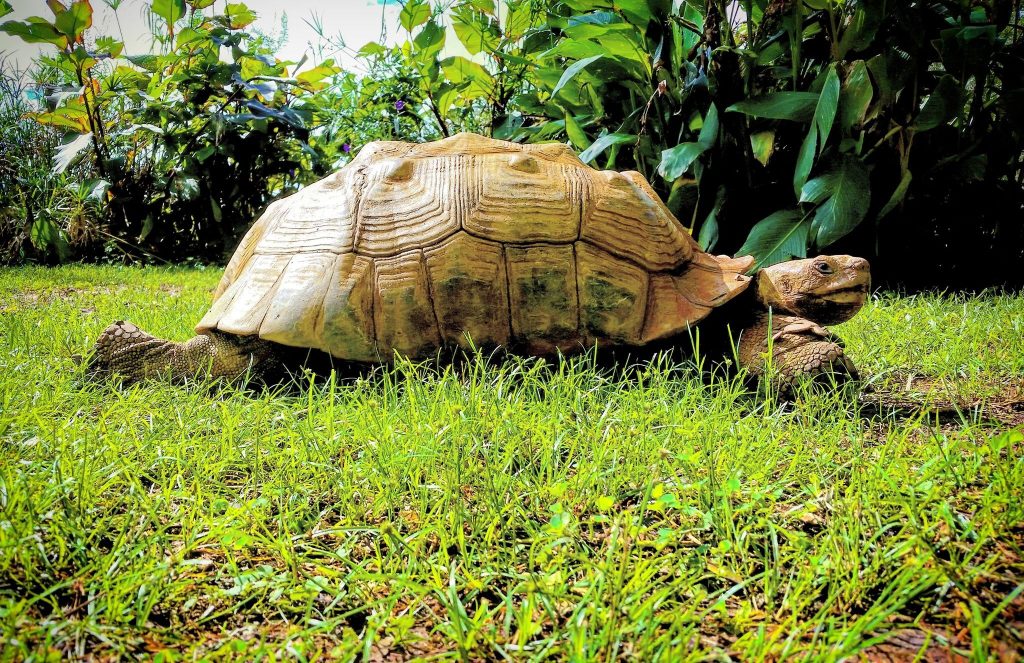 At roughly 30 years old, Godfather weighs in at nearly 75 pounds! He shares an enclosure with Flash, a female Sulcata Tortoise and Garcia, a female Yellow-Foot Tortoise. These two are his best friends. They spend lots of time together during cooler months in anticipation for warmer weather.
Godfather is mostly visible during the spring and summer months in our reptile area, so next time you visit Alligator Alley, come say hello!