How Alligators Celebrate the Holidays
Posted on
December 17, 2018
We're often asked the question, "What are the holidays like at Alligator Alley?". Well, as most of you know we are closed for winter due to inactivity at the swamp, except for a few days when we're open to celebrate. Most of the alligators have their own traditions that take them away from their nests and off to visit relatives nearby. (Don't worry, they don't travel by foot – they carpool.)
For the lucky few that stay here at the swamp for the holidays, we spend extra special quality time with them. When we're not watching "How the alligator stole Christmas," we're singing our very own Christmas carols, loud and proud for all to hear. A favorite of ours is "I saw Colonel kissing Santa Claus" and "Pickles, the Green-Nailed Alligator."
Although the alligators typically don't eat during the winter, they sometimes can't help themselves when it comes to sugar cookies and eggnog (Captain Crunch gets especially rowdy!). We use the couple days we have as a small group as a chance to really connect with each other on a deeper level and appreciate one another's company.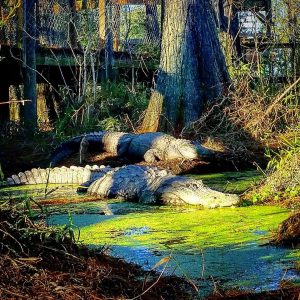 Everyone's favorite part of the holiday is when Pickles shows up in his Santa Claus costume and gives all his pals a little gift to make them feel loved. Last year, he got everyone a snack (a piece of a huge hog!). This year we're looking forward to spending time together and spreading holiday cheer!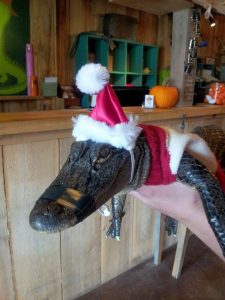 While we aren't open on Christmas Eve or Christmas Day, we do invite guests to join us on December 21-23 and December 27-31 (closing at noon on December 31). For more information on winter at Alligator Alley or to view our hours, visit gatoralleyfarm.com and follow us on Instagram and Facebook.