Farm Friends Feature: Pickles
Posted on
November 7, 2018
Last week, we took a dip in the swamp with our farm friend Pickles, so he could show us the ropes of #swamplife around Alligator Alley. We weren't too nervous to hop in the swamp since we were with Pickles (he's a friendly fella). If you didn't already know, Pickles is the most popular alligator here on the farm! He's cute, fun and likes to play dress up every chance he gets. He even struck a few poses and modeled for us post-interview!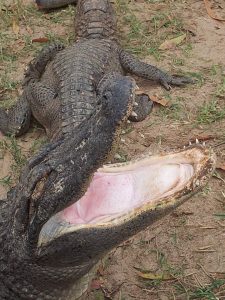 Pickles is a 6-year-old alligator weighing in at about 80 pounds and measuring 5 feet long. But don't think for a second that he's not one to fight – this alligator talks the talk and walks the walk. For now, he remains the most popular of the alligators because of his vibrant style choices and friendly attitude (most of the time).
Now, it's time for you to really get to know the real Pickles.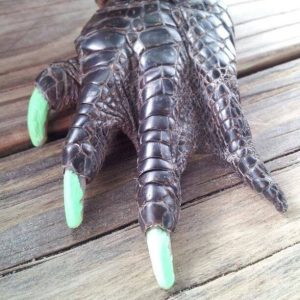 Q: Pickles, what's the deal with the green nail polish? Where does your distinctive style come from?
A: Growing up around all these alligators, I had to find a way to stand out in the crowd! Also, green is a lucky color and complements my skin tone.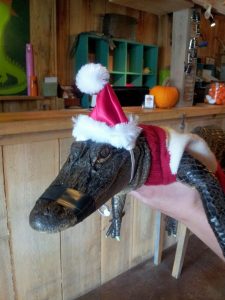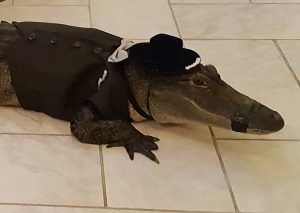 Q: What's your favorite outfit you've strutted around been over the past years?
A: Hmm…I'd have to say my Santa Claus costume or maybe my sweet tux!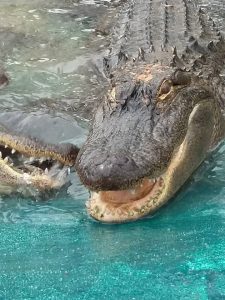 Q: What's your favorite part of Alligator Alley?
A: I like to swim around and make friends! We even play games of Marco Polo in the swamp.
Q: How did you earn the name "Pickles"?
A: Because I LOVE to eat Pickles! When I was just a baby, I stole a cheeseburger and ate the pickles off of it. Ever since, I've been hooked! Pickles and chow together make for the most delicious combo.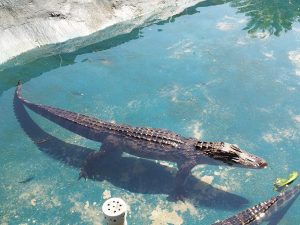 Pickles had to leave our interview for an important photo opportunity in his Halloween costume, but he will answer any fan mail you might have. Just send him or any of the other alligators your questions at info@gatoralleyfarm.com and we'll add you to our newsletter to receive updates on what's happening around the farm! By the way, Pickles has his own Facebook page– check him out!
We are currently open every day except Wednesdays, but our hours are changing for the holidays. Be sure to stop by and spot Pickles munching on his favorite snack!