NEXT STOP: A VISIT TO YOUR FRIENDS AT ALLIGATOR ALLEY
Posted on
August 18, 2022
More than just alligators call Alligator Alley home. From turtles and snakes to frogs and pigs, our swamp is full of farm friends you are going to love!
Turtles
Freshwater turtles love spending most of their time hanging out in lakes and ponds or even sunbathing on rocks and logs. Their webbed feet help them smoothly skate through the water. The majority of turtles prefer warm weather, and they tend to hibernate underground during colder seasons. 
Tortoises
Unlike turtles, you will likely find tortoises on land. Their stumpy, solid feet make walking a breeze! Like turtles most tortoises are omnivores, eating plants, fish, snails and insects. Tortoises inhabit hot, dry climates, but when they want to escape the heat they bury themselves in the mud. Pay a visit to Godfather, one of our most popular tortoises!
Snake
Have you seen something slithering around? It's probably one of our snakes! Banana is a Burmese Python, one of the world's largest snakes. Because of poor eyesight, Burmese use heat sensors and chemical receptors to catch their prey. These carnivorous snakes can swallow food five times larger than their head!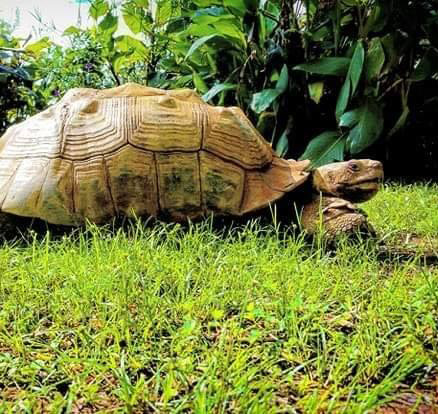 Bullfrogs
Bullfrogs get their name from the sound they make. People attribute the sound to the "mooing" of a cow, which is where the "bull" originates. These carnivorous amphibians can live for seven to nine years and weigh just over one pound. Similar to turtles, bullfrogs favor warm weather and hibernate in the mud during colder seasons.
Pigs
At Alligator Alley, you will see our domestic pigs roaming around or playing in the mud. Unlike the feral hogs we feed to our alligators, our domestic pigs are happy members of the farm family.  
Longhorn Cattle
Did you know we have longhorn cattle on the farm? One of our oldest longhorns is named Hootie. They can be spotted from the parking lot, so keep an eye out for them next time you visit Alligator Alley!
Alligators
Last, but certainly not least, our infamous alligators! These carnivorous creatures have a lifespan of 35 to 50 years, and males on average weigh 600 pounds. However, Alligator Alley's very own Captain Crunch weighs over 800 pounds. Males typically grow between 10 to 15 feet long, half of that being their tail. Because alligators tend to be clumsy on land, they enjoy hanging out in rivers, lakes, swamps and marshes. With webbed feet and a powerful tail, alligators glide through the water with ease.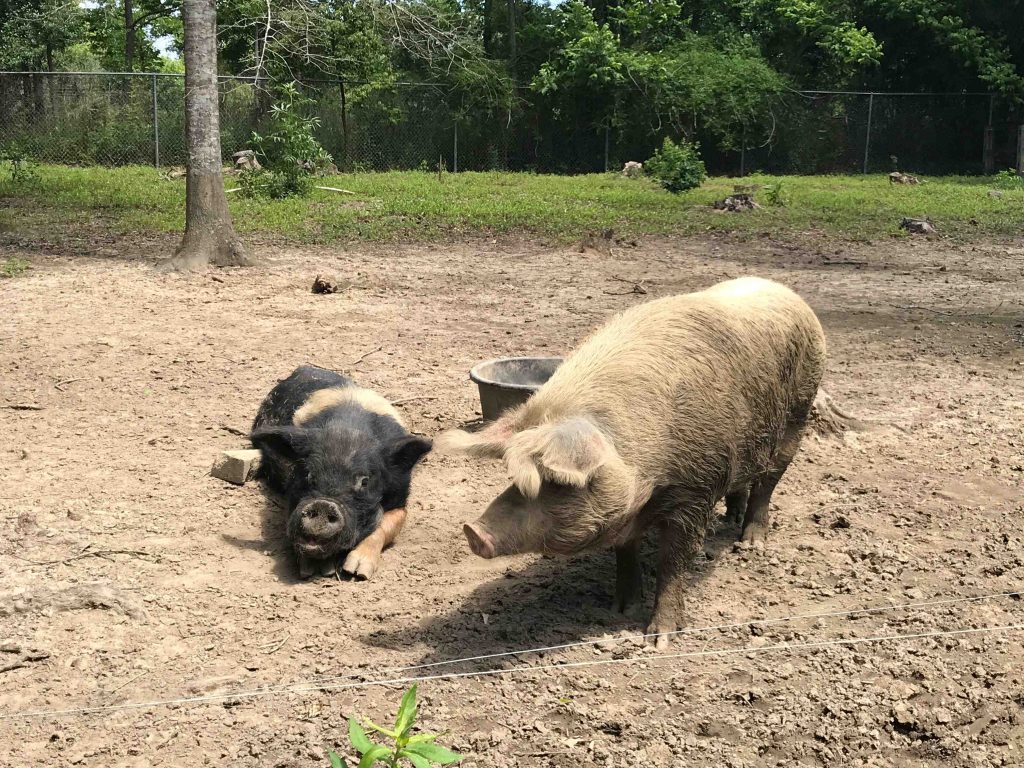 Now you're all caught up on our farm friends. Check out the details on pricing and hours before your next visit. We can't wait to see you at Alligator Alley!