Unforgettable Experiences at Alligator Alley
At Alligator Alley, we have worked hard to ensure that our wildlife sanctuary is an exciting experience for all ages! Since animals have a mind of their own, each and every trip to the farm is unique and unforgettable, with new experiences all over the 20-acre wildlife sanctuary. So, let's talk about some of our favorite trips… field trips!
Field Trips
Classes will make memories they'll carry with them forever as they participate in a guided tour across the farm. The day starts with a guided tour along our boardwalk, where students can explore the grounds with an up-close view, watch the alligator feedings and view other wildlife in their natural habitats. Classes will see alligators everywhere (over 450, if we're counting), as well as other animals local to the ecosystem in south Alabama, like turtles, snakes, owls, pigs, bull frogs and more!
On the boardwalk, guests are able to feed the alligators with our famed "alligator chow." The ingredients are SUPER secret, so classes can see if their tour guide will share the recipe by impressing them with their knowledge of alligator lingo and knowledge that they bring with them to the farm.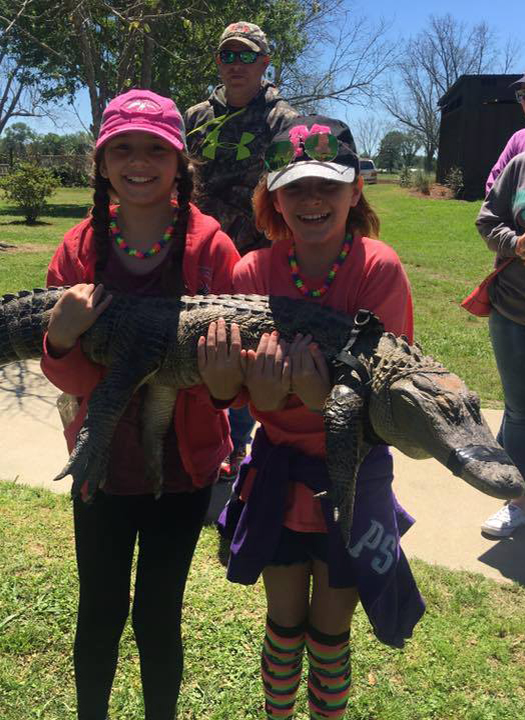 When the guided tour is complete, field trip guests can hold a real-life baby alligator! This is the perfect photo opportunity to show how much fun they've had during the day trip. Don't forget to ask any of our staff members more questions about the alligators and wildlife while you're here!
After the alligator and wildlife entertainment comes to a close, students can enjoy our shaded picnic area for a brown bag lunch. This is the perfect opportunity to talk about everything they experienced during their trip to Alligator Alley.
Looking for another way to enjoy Alligator Alley's unique atmosphere with friends and family?
Birthday Parties
A birthday celebration with over 450 of your reptile friends sounds like a party to us! Give your child a birthday party that will never be forgotten by celebrating here at Alligator Alley.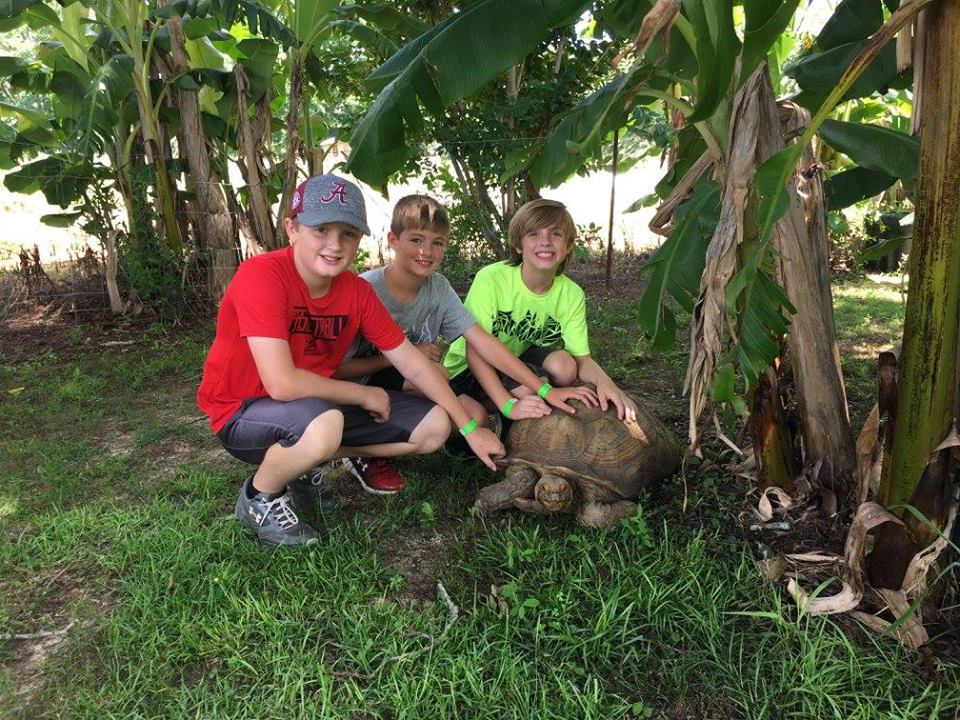 During the festivities, guests can adventure along the boardwalk and experience all the wildlife here on the farm. Seeing how many animals you can count is a fun game to play as you explore. After the boardwalk, birthday party guests can enjoy the air-conditioned sunroom for the two-hour event.
The birthday boy or girl also receives a gift from Alligator Alley including a fun T-shirt, a water bottle and a backpack. All of these are the perfect addition to their next adventure!
To make things easier on you, we also have cart service for bringing food and coolers back and forth to the sunroom from your vehicle. It's one less thing for you and your party to worry about, which means more time holding baby alligators!
More information and things to look forward to for your next visit to Alligator Alley:
• Self-guided tours along the elevated boardwalk to safely view the alligators
• Daily feedings at 11 a.m., 1 p.m. and 4 p.m.
• Kid friendly and safe
• Handicap accessible
• Shaded picnic area
• Photography welcome
• Over 450 alligators from hatchlings to mature adults
Give us a call at 251-946-2483, or email info@gatoralleyfarm.com, if you have more questions about celebrating a birthday or planning a field trip. Pricing and more information can be found on our website.